So, I'm Traveling Abroad – How do I Pay for Things?
|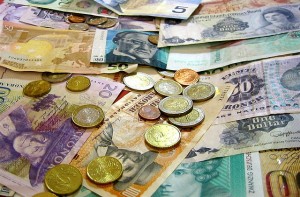 Without fail, some of the first questions we get from our friends and family when they are about to visit are these: "So, what's the deal, should I take out some cash and exchange it for pesos? How do I pay for things on the trip?" Indeed, one of the first orders of business, whether you're coming to Guadalajara for a visit or for an extended-stay, or are perhaps even moving here, is to address how you're going to financially cover yourself. We'll be addressing that here in this article. Additionally, we'll fill you in on the lowest-fee ATM we've found in the city, the best U.S. checking account we've found for avoiding ATM fees and foreign currency transaction fees even while abroad, and the best U.S. debit and credit cards for use abroad to avoid foreign transaction fees.
While Guadalajara is a modern city, there are still many businesses that do not accept anything other than cold hard cash. If you're coming from a country where credit and debit cards are the norm, or perhaps even smart-phone payment apps like Venmo and LevelUp are frequently used, then you'll have to rediscover cash and how to add it back into your arsenal of payment methods. In general, you'll want to carry a couple of credit cards (or debit cards that can be used as credit cards) and some cash with you. You'll have the best luck with Visa, and after that, MasterCard. Forget about your AMEX card, but we'll discuss credit cards in more detail down below.
Dinero
When it comes to cash, currency exchange booths are just about the worst way to get pesos. They'll never give you the best exchange rate and you'll be hit with fees. The best means of acquiring pesos these days is to simply use an ATM, just like you would do at home if you needed cash for something. You'll get a much better exchange rate. Unfortunately, this means that you may still get hit with fees, depending on whom you bank with at home. These fees may include ATM and foreign currency exchange fees.
Lowest ATM Fee: The bank that provides the ATM (cajero in Spanish) that you use down here in Guadalajara will charge you a fee for withdrawing money from your home account. The lowest-fee ATM we have found in the city is serviced by CI Banco. They have a location at the southeast corner of Avenida Vallarta and Calle Progresso, one block east of the intersection between Avenida Vallarta and Avenida Chapultepec. As of the publication of this article, you will pay only $17-18 MXN in fees for each transaction, regardless of how much money you withdraw. In other words, it is a flat fee, not a percentage of the total amount you withdraw. The next lowest ATM fee we found with any other bank was over $26 MXN, while many were over $30 MXN and even $45 MXN!
If we find an ATM with an even lower fee, we'll be sure to update this info!
Avoiding ATM Fees: There are financial institutions in the U.S. that compensate you for the ATM fees you've had to pay for withdrawing cash anywhere in the world. Our favorite is the Schwab Bank High Yield Investor Checking Account. As they print on their site, Schwab provides unlimited ATM fee rebates on your cash withdrawals anywhere in the world, there are no monthly service fees on your account, there is no minimum balance required, your account balance earns interest, and it is FDIC insured up to $250K. Note that you have to open a brokerage account with Schwab (if you don't have one already) when you open the checking account, but you are under no obligation to use the brokerage account or carry a balance in that account. As an aside, we've heard only good things about Schwab brokerage services, though.
Other notable mentions include Ally Bank for ATM-fee rebates.
Foreign Currency Exchange Fees: When you withdraw money, your bank at home is very likely to charge you a foreign currency exchange fee. Credit unions tend to charge the lowest fees in this regard. Before you travel, inquire with your bank regarding this fee.
Avoiding Foreign Currency Exchange Fees: Once again, with the Schwab High Yield Checking Account, you will not pay foreign currency exchange fees when you use your associated debit card to withdraw money from an ATM here or anywhere abroad (nor will you pay such a fee for purchasing something abroad using your debit card).
Plastic
Foreign Currency Transaction Fees: When you purchase something abroad using a credit or debit card, it is highly likely that you will be charged foreign currency transaction fees (they may also be listed as currency exchange fees). The idea is the same as with the foreign currency exchange fees, and one way to avoid them when using a debit card as a credit card for purchases is to go with the Schwab checking account as they will not charge you such fees when you use your High Yield Checking Account debit card to make a purchase. Otherwise, as stated before, credit unions tend to charge lower fees in this regard.
As for credit card companies, they will also often charge you foreign currency transaction fees, and they can be quite hefty. The folks over at NerdWallet have a great rundown of the best credit cards available for avoiding foreign transaction fees. Topping off the list are the Barclay Arrival World MasterCard, the Chase Sapphire Preferred card, The BankAmericard Travel Rewards Visa, and the Capital One Quicksilver Cash Rewards Visa. These are perfect for those of you who travel frequently or are planning an extended or more permanent stay but want to maintain ties with U.S. financial institutions. Plus, you earn miles, points, or cash-back, of course, not to mention the sign-up offers.
Be sure to comment with your fee-saving travel tips!