Entertaining & Economical Excursions: El Parque Mirador Independencia (Mirador Park Independencia) in Guadalajara, Mexico
|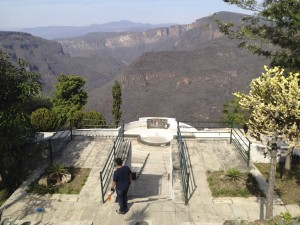 While you're in Guadalajara, you'll want to see at least some of the things that make this city special. To that end, we're compiling our favorite and more interesting excursions, one-by-one, in a series we're calling "Entertaining & Economical Excursions". The first on our list is El Parque Mirador Independencia (Mirador Park Independencia).
Situated at the northern edge of the city, El Parque Mirador overlooks Barranca de Oblatos (also known as Barranca de Huentitán or Cañón Oblatos-Huentitán), a reasonably-sized canyon of 600 meters average depth. Formed by the Río Grande de Santiago, it is also the former sight of battles between Spanish conquistadors and the indigenous peoples of Huentitán, certain battles of the Mexican Revolution, and specific battles of the Cristero War in the early 20th Century .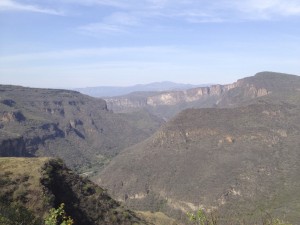 While you won't see any remnants of these battles from the outdoor auditorium or other viewpoints in El Parque Mirador, what you will be treated to are tranquility and gorgeous views of the canyon, its varied vegetation, and the river far below. In fact, you may just forget that you came from Guadalajara and that the city is, in fact, anywhere near you. What's more, the entrance fee for the park and for viewing the canyon is very small, only $3 MXN per person at last check. Inexpensive and impressive, a great sightseeing combination!
To get there, hop on the Macrobús (Macrobus) Line 1 for $7 MXN (at last check) heading north along Calzada Independencia in the direction of "Mirador". Note that the Macrobús stations are lined up in the middle of Independencia as these buses run in their own dedicated lanes in the center of the thoroughfare (the left-most lanes in either direction). Also be aware that you'll pay for the bus at your stop's turnstile before entering the waiting area and eventually boarding, and that the turnstiles do not give change so bring the exact amount. Take the bus to the "Mirador" stop at the end of the line and then walk more or less due north through the park which lies to the right and straight ahead of you to access the amphitheater and a short walking path that runs along the park's northern edge affording more views of the area. If you have a car, parking is available in the park for an additional $10 MXN for the entire day, at last check.
According to one source, the park appears to be open from 7am-7pm, but we've also seen that it might open as early as 6am. Allow for a morning or an afternoon to get out there, enjoy yourself (maybe even have a picnic in the amphitheater), and get back to the heart of the city. You won't regret it!