Entertaining & Economical Excursions: Bosque los Colomos
|
As we mentioned in our neighborhood guide article, Providencia is home to many nice, safe parks. The Bosque los Colomos (BLC), or Colomos Forest, is no exception. It seems to have something for everyone, be you a sportsperson, a parent, a tourist, or someone's romantic partner. According to government information, the park is a massive 92 hectares in size with some 32,000 trees (we hesitate to even call it a park). Tree species include pine, eucalyptus, and cedar. Born out of an era of panic over deforestation and pollution of waterways in the area, the Bosque los Colomos began its life as a clean water collection center for distribution to the ever-growing city of Guadalajara. Now, under the care of the decentralized public organization Patronato Bosque Los Colomos as of 1998, the objectives have become the conservation, protection, and betterment of the forest and the development of athleticism, culture, environmental education, and peaceful coexistence. Below, we'll provide you with some further details on why the Bosque los Colomos makes for a fantastic entertaining and economic excursion.
For the cost of just $7 MXN per person, you can enter the Bosque los Colomos through one of three primary entrances, either via Avenida Patria to the north, Calle El Chaco to the east (be sure to have coins on you for this entrance as there is a coin-operated machine that controls entry and exit), or Paseo Torreón to the west. There is parking at every entrance, although the Patria entrance may be the busiest.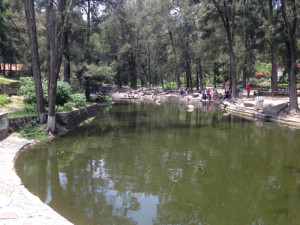 Once inside, there is a host of things to see and do. For instance, aside from the thousands of trees that comprise this small urban forest, you'll find a picnic area shaded by the branches of Eucalyptus trees and a Japanese garden (enter via Calle El Chaco), complete with all the elements you would expect – a small bridge, water, raked sand. Past the garden, you'll find a man-made lake that is home to larger birds and amphibians, and Las Pérgolas, an event space in which the program Conociendo México features the food and culture of a different part of Mexico each month, among other activities.
For you runners and walkers, there are 5k and 2k paved loops (enter via Calle El Chaco), complete with old red and yellow arrow markers, respectively, painted onto the concrete to guide you through each loop and occassional signs along the routes indicating how far you've come. The loops, while short, are surprisingly challenging given the hilliness of the land. Along several stretches (near the Paseo Torreón entrance, El Chaco entrance, and deeper in the park), you'll find exercise equipment. If you prefer dirt trails, you can find plenty of those as well, especially on the side of the park closer to Avenida Patria.
Bosque los Colomos also counts a castle among its features. Inaugurated in 1902 as an administrative building to oversee the collection and distribution of water, it currently acts as a culture center and offers classes in drawing, painting, sculpture, and dance, as well as conferences, movie showings, plays, concerts, and other events. While the building is currently being remodeled, said activities are still being offered. In fact, if you enter via Avenida Patria on a weekend day, you might find yourself walking through crowds of seated families painting wooden toys or creating other art as you make your way into the park. Today, the BLC is also considered a protected hydrological area and hosts groups of environmental educators and their students as they share knowledge and raise awareness about the critical services the park has performed and the importance of caring for the environment.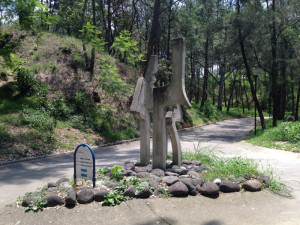 Near the castle you'll find a sculpture of Pepe Guizar, the renowned composer, musician, and poet who wrote the famous Mariachi song, "Guadalajara", among others, and was even offered by the Jalisco state government the castle to live in at one point. Indeed, you'll find statues throughout the park, including works donated to the park by artists representing other countries such as Costa Rica, Cuba, Argentina, and Canada, positioned at various points along the previously mentioned paved walkways.
Finally, deeper in the urban forest of the BLC, there is a paramedic station along a paved walkway next to some of the aforementioned fitness equipment on the way to some of the attractions, an equestrian area where word has it that you can rent horses and ride them about certain sections of the park, a camping area, a Mexican garden full of various cactus species and succulents, and water basins and a fountain. Generally speaking, the park is well-kept and easily makes you forget that you are anywhere near a large, bustling city. It is indeed a wonderful place of peace to escape to, especially on a weekday afternoon when very few other people are there.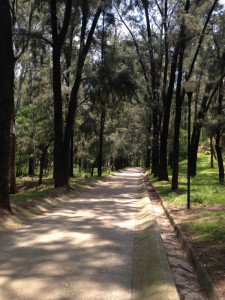 Enrique Alfaro, the new mayor of Guadalajara, has promised early on in his term that park entrance fees will be abolished city-wide and these green spaces will be open to the public free-of-charge. We have yet to see that happen but we're keeping our fingers crossed. It would be a nice gesture, so long as it doesn't lead to the disrepair of said green spaces.