The Neighborhood Guide: Where to Stay in Guadalajara, Mexico
|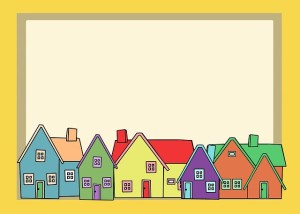 Anyone who is looking to spend an extended amount of time in Guadalajara will obviously be faced with the important decision of where to locate themselves during their time here. Whether it is a temporary or a permanent move, your concerns will most likely include things like safety and proximity to businesses, sights, or public transportation. Suffice to say, this decision can make or break your experience. We've therefore compiled a list of neighborhoods with brief descriptions that, for various reasons, you may wish to consider further as your potential future home base here in Guadalajara. Note that we are attempting to remain as impartial as possible in presenting our observations below as your preferences are extremely personal.
Before we get started, a necessary disclaimer is in order. The Instituto Nacional de Estadística y Geografía (National Institute of Statistics and Geography), or INEGI, holds the keys to Mexico's statistical and geographical data nationwide. They are responsible for performing the population and economic censuses and the gathering of statistical information on GDP and a host of other items, for instance. Therefore, they are the ultimate authority on out topic here of neighborhoods. The problem is that INEGI's drawing of colonias and barrios just doesn't always jive with local knowledge and understanding here in Guadalajara.
Take Colonia Americana or Barrio Santa Teresita (Santa Tere for short), for example, two neighborhoods that make our list below. According to INEGI, Colonia Americana crosses Avenida Chapultepec and covers area on both sides of it, whereas locally some folks would disagree and say that Americana covers an area to the east of Chapultepec only, while on the west it is most likely Colonia Ladrón de Guevarra. As for Santa Tere, apparently it doesn't even exist and is not plotted on INEGI's maps of the city. That isn't going to get you very far with the people who service and live and work in Santa Tere, now is it. Locals know it exists, at least to the locals, and that's what matters, especially when you're hunting for a rental or property to purchase.
Hence, we've purposely decided to ignore INEGI's neighborhood demarcations in favor of how locals might draw neighborhood boundaries. To this end, Google Maps and Wikimapia have turned out to be the best we can do without drawing maps of our own. Neither using those mapping services nor drawing our own would be perfect, anyway, as even locals might disagree exactly where a boundary lies, but those online mapping services are good enough to get the picture across. And hey, at least they recognize the existence of Santa Tere.
Guadalajara Proper
Providencia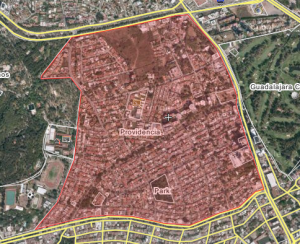 One neighborhood (it's really more of an area with several sections) that is recommended time and time again to newcomers is Providencia. To begin to give you a sense of the area, it can be said that some of the nicest cars seen in town are seen here, that some of the largest homes in the city can be found here, that some of the most upscale and trendy restaurants and bars are located here, that some multinational banks have highrise towers here. It is very much an enclave for the more well-to-do residents of Guadalajara but we must say it isn't completely over the top.
There are great delis like Herman's and safe parks to run in like the Parque Lineal in the center of Avenida Pablo Neruda. Many organic stores call Providencia their home, the streets and sidewalks appear to be cleaner than average for the city, and the general variety of business offerings including types of cuisine (like the best hamburger in the city) is relatively high. Parts of Providencia are quite walkable and bus transportation is readily available more or less throughout the area.
There's a higher concentration of expats in this area. Practically speaking, this may mean a presence of more goods and services tailored to expat tastes and landlords that are more accustomed to listing their properties online and renting to foreigners, making it easier for you to find a place. You may find it less of a requirement that you have a propertied Guadalajaran who can attest to your good character to cosign your lease, for instance.
Also note that rent and property in general are more expensive compared with other neighborhoods and you will be further away from many of the historical sights and zones of the city. And while many promote the area's safety, we believe that safety is very much a psychological thing. How safe you feel depends on countless factors that are often very personal and have nothing to do with actual crime statistics, but yes, Providencia feels safe to many, Mexicans and foreigners alike.
Major streets include Avenida Pablo Neruda, Terranova, Avenida Providencia, and Avenida Montevideo. [MAP]
If trendy, upscale, swank, clean, self-contained, English-language-friendly, and the appearance of safety resonate with you, and cost is less of an issue, you may want to consider Providencia as your home base.
Americana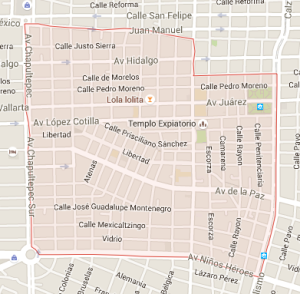 Similarly high on the list of recommendations is Colonia Americana. The best-known arterial near it is Avenida Chapultepec which borders it on its west end. While Americana likewise has its share of trendy and diverse businesses, Chapultepec is a gathering place for the entire city with various groups of different ages and walks of life congregating here. Youths practice their dance, skateboarding, and BMX moves here, indigenous peoples of Mexico sell their wares here, free performances including full-blown concerts attended by thousands take place here, classic cars are showcased here, many food trucks serve up their menus here. Closure of parts of the avenue to encourage public gatherings is not uncommon. There's never a shortage of activity in Chapultepec, especially on the weekends.
Americana gets you closer to the city's historical sites and zones, including the Expiatorio which is located in the neighborhood. The University of Guadalajara's main campus is quite close as well. Americana is sprinkled with small, attractive plazas and parks and is home to the U.S. Consulate. It is also known for being safer than average although some complain that the bar scene has made the area less safe than it used to be as more drunk people tend to do more stupid things. We haven't experienced this but it's difficult for us to argue with the experiences of others.
On the whole, Americana is less residential as it has lots of businesses, and then more apartment buildings than homes. Many young professionals and foreigners live there but the population density isn't as high here as in other parts of the city given the presence of the various businesses including everything from lovely restaurants and cafes to wedding shops to funeral homes. Landlords are used to dealing with foreign renters, hence you might have an easier time finding a place to rent here if you are not from Guadalajara or Mexico. Availability might be low, though. Again, the requirement to have a propertied Guadalajaran who can attest to your good character to cosign your lease may not be so strong here. Don't expect to easily find a house to rent or purchase here, though, as supply of those is simply low. Again, rent is higher than average, perhaps less but potentially as high as something similar in Providencia.
Other major streets besides Avenida Chapultepec include parts of Avenidas Vallarta, Hidalgo, de la Paz, López Cotilla, and Enrique Diaz de León. Bus transportation is readily available, especially along calles Morelos, Moreno, and Libertad, or you can access metro stops in Calzada Federalismo to the east. [MAP]
If hip, the appearance of safety, good walkability, and closer proximity to historical sites and zones appeals to you, Americana might be what you're looking for.
A related option is Lafayette, which shares essentially all of the same characteristics as Americana as it is separated from Americana only by Avenida Chapultepec which runs between them and borders Lafayette's east end. Some of the fashionable businesses there give the neighborhood even more of a Providencia feel than Americana has. Otherwise, what applies in the Americana overview applies here. Major streets again include Avenidas Chapultepec, Vallarta, de la Paz, López Cotilla, and Niños Héroes. [MAP]
Another possibility is La Moderna, a very residential neighborhood with few businesses in the area and the general appearance of safety. It will typically cost you a bit less to live here than in Americana. It is close to light rail and bus routes, Avenida Chapultepec, and is due south of Colonia Americana. Major streets include Avenida Niños Héroes, Agustin Yáñez, Avenida Washington, Calzada Federalismo, and Calzada Independencia Sur. [MAP]
Santa Teresita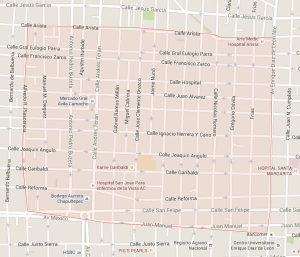 Colonia Santa Teresita is a very dense, busy neighborhood with a vibrant central market, two tianguis during the week, a beautiful church, and a smattering of businesses of all types ranging from car-related repair and restoration to dance to furniture to party supply to hardware to pastry to sewing to you name it. It is also where many pink- and blue-collar families make their home, including those that work in the local businesses, bus and taxi drivers, and so on. There are fewer white-collar professionals in the neighborhood, although you will find the occasional veterinarian, dentist, or optometrist.
Santa Teresita similarly gets you closer to the historic sites and zones of the city than Providencia, generally speaking, and is extremely walkable. You can find most of what you need without leaving the neighborhood, although you'll want to get to other areas like Avenida Chapultepec, Avenida Enrique Diaz de Leon, Avenida Vallarta, Avenida de las Américas, or Providencia (which are all more or less within striking distance, especially by bicycle, thankfully) for nightlife, dining, movie-going, and the like as there really isn't much of that inside Santa Tere. The colonia tends to shut down, more or less, after business hours. There are just a few sparsely located restaurants, including world-famous (for the speed of its service) Karne Garibaldi, a couple of bars, and some street stands with hot dogs and tacos open through the night.
Rent is much cheaper here than in the two areas mentioned above thus far. For instance, a small house will usually run you less in Santa Teresita than a smaller apartment in Americana or in Providencia. You simply get more for your money in Santa Tere. However, it becomes more difficult to find a place to rent. Many rentals in this part of the city are advertised with signs on the buildings themselves, meaning you literally have to comb the streets to see what's available – they won't be listed online. Furthermore, it becomes more common that your landlord will require a cosigner on your lease – someone who is employed and owns property in Guadalajara, can attest to your good character, and is willing to legally assume responsibility on a contract in case you renege on it.
Major streets include Calles Garibaldi, Ignacio Herrera Y Cairo, Acuña, Hospital, Anderes Terran, Ramos Millan, Arrista, Manuel M. Dieguez, and others. Bus transportation is readily available but you may have to do a small amount of walking to get to a busier street or bypass a tianguis here and there on certain days. [MAP]
If you prefer an area that's down-to-earth, pink- and blue-collar, family-oriented, bustling during the day but quiet at night, more economical, fairly well-located, extremely walkable, and with the appearance of safety, and you don't mind greater neighborhood population density (families and their pets), a bit more trash in the streets, or having to leave the area to enjoy some nightlife, consider Santa Teresita.
Chapalita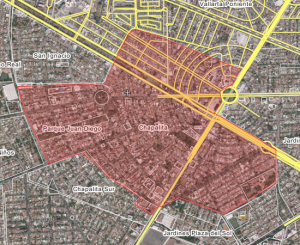 Chapalita, like Providencia, is more of an area with subsections. It is again a mix of residential and business properties (including Librería Sandi, a massive English-language bookstore) where more professionals and some expats live. It is nice and clean but also a bit on the pricier end. There, you are closer to Zapopan and even further away from many of the city's historical sites and zones, although there are nice parks to enjoy, including Parque Juan Diego and Glorieta Chapalita. Glorieta de la Estampida, with the famous La Estampida monument that is featured prominently on our Facebook, Google+, and Twitter feeds, is in the general area.
As with Providencia and Americana, you might have an easier time finding a rental without the cosigning requirement and without walking the streets, but expect to pay more. Walkability is lower but you'll find bus transportation.
Major streets include Avenidas Niños Heroes, Guadalupe, Adolfo Lopez Mateos, and Calzada Lazaro Cardenas. [MAP]
If you're looking for a place more English-language friendly, quieter, cleaner, and with the appearance of safety, and you don't mind paying more for it, look into the Chapalita area.
Ladrón de Guevarra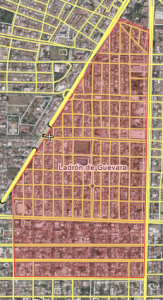 Ladrón de Guevara is a largely residential neighborhood with a scattering of businesses, including Ecotienda (an organic food store with a small organic market on Saturdays) and Cioccolato Café. It is also here that you can find the official residence of the Jaliscan Governor, Casa Jalisco. Many streets are tree-lined and quiet given the abundance of homes and absence of many businesses, especially bars and clubs.
The rental and property situation is apt to be more like nearby Lafayette and Americana or Providencia – landlords and owners who post their properties online and may be more accustomed to renting to foreigners without cosigning arrangements.
While Ladrón de Guevarra is certainly on the quieter end of the spectrum, it still counts some very busy arterials including Avenidas México, de las Americas, Hidalgo, and Adolfo Lopez Mateos. Bus transportation availability is high but it's also a fairly walkable and bikeable area. [MAP]
If quiet, tree-lined residential streets, a low number of businesses, and nearby bus routes appeal to you, investigate Ladrón de Guevarra. Note that some maps place Santa Tere inside of Ladrón de Guevarra.
Jesús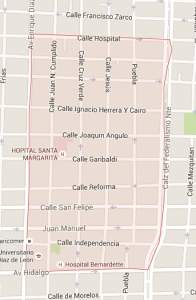 Colonia Jesús is more along the lines of Santa Tere in that it likewise boasts its own market, church, and dense packaging of residential and business offerings. It is yet on the cheaper side than most other neighborhoods mentioned here although it borders Americana to the north, is a bit more rundown in appearance, and gets you even closer to the historical sites of the city.
Calzada Federalismo Norte is nearby with access to light rail stations. Bus transport is also readily available, or you can get around on foot or by bike. Other major streets include Avenidas Enrique Díaz de León and Manuel Acuña. [MAP]
If affordability is your absolute top priority with proximity to businesses, public transportation, and the historical center, you may want to consider Jesús.
Mezquitan [MAP] and Mezquitan Country [MAP] are neighborhoods lying to the north with light rail stops and bus transportation. They are further from the city's historical center but are otherwise apt to be similar to Jesus with Mezquitan Country being a bit less rundown while remaining affordable.
Zona Centro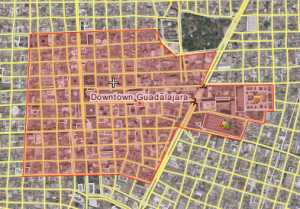 As the name implies, Zona Centro lies in the heart of the city. You will frequently pay less for something here, less than you would think the rent should be for the place you're getting, and the availability of rentals is rather high, including many shared living options for short periods of time such as 1-3 months. The tradeoff? In a word, security.
It is here that we've known people to get mugged, albeit at some ridiculous hours of the morning. We've known others to never have had a problem. But, in general, theft seems to be more of an issue, as do prostitution and small time drug dealing.
You will be as close to the historical sites as you'd ever want to be living here, and some of the units inside look quite nice from photos on apartment listing sites. Just be aware, especially after nightfall, that safety is more of a concern, especially around San Juan de Dios market. You may want to avoid any listings close to there.
You'll have access to bus and light rail transportation, or you can get around on foot or by bike. Major streets include Calzada Independencia Sur, Avenida de la Paz, Calzada Federalismo Norte, Fray Antonio Alcalde, 16 de Septiembre, and Avenida Hidalgo. [MAP]
If living in the core of a large city in a decent apartment is your thing, and you understand the risks presented by that here in Guadalajara, you may want to consider the Zona Centro.
Mexicaltzingo [MAP] is similar and lies to the south. If you choose to live in the general vicinity of Zona Centro, we'd recommend staying west of Calzada Independencia.
Tlaquepaque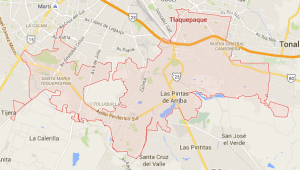 Tlaquepaque, which forms a large part of the southern portion of the greater metropolitan area of Guadalajara, is an interesting option if you appreciate art and historical sights and zones. It is still its own city and puts you out of Guadalajara proper altogether, making it somewhat of a chore to get there and back by bus, but it can be more cost-effective rent- and property-wise, has its own parks, market, artisans, plazas, churches, fashionable businesses, a commercial center nearby, and the appearance of safety (parts of it, anyway). The Vía RecreActiva is also active here.
Known for its pottery, blown-glass, and mariachi bands, it further boasts a language school that can place you with a host family, if that's your thing. Otherwise, if you're going to look for housing yourself, we would recommend just the area around the center.
Major streets include Calzada Lázaro Cárdenas, Avenida Revolución, Calzada Niños Héroes Tlaquepaque, Avenida Doctor Roberto Michel, and Calzada González Gallo, to name a few. [MAP]
Zapopan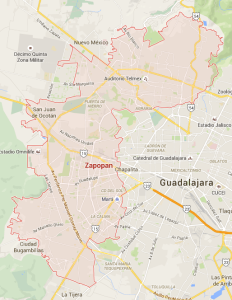 Zapopan is also legally a city unto itself and comprises a significant portion of the northern and western part of Guadalajara's greater metropolitan area, butting up against the Bosque de la Primavera further to the west and the Barranca de Huentitán (Barranca de Oblatos) further to the north, and boasts some of the most expensive and exclusive living and shopping in all of the area.
Zapopan is where you'll find grand shopping malls and commercial centers, big box stores such as Costco and Walmart, the huge Parque Metropolitano (Metropolitan Park), a busy seafood market, and a beautiful historical center of its own.
The light rail does not currently extend here but there are many buses that carry people between Zapopan and Guadalajara proper. Major streets include Avenidas de la Patria, Vallarta, and Guadalupe. [MAP]
If you like the idea of living in a city center, you may want to consider Zapopan Centro as its city center is cleaner and safer than Guadalajara's. Otherwise, consider areas within Avenida Periférico and around shopping/commercial centers and Metropolitan Park, or areas like the following below.
Puerta de Hierro, Lomas Altas, & Colinas de San Javier
If you really want to blow some cash and aspire to more of a Beverly Hills feel, gated communities, mansions, fancy shopping at Andares, and exclusivness await you in Puerta de Hierro [MAP], Lomas Altas [MAP], and Colinas de San Javier [MAP] (and some of the communities in between). Basically, pricier than Providencia and even more exclusive.
Tonalá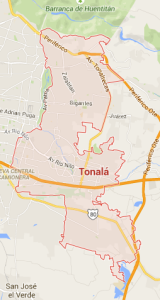 Finally, Tonalá is yet one more option but it is further out than either Zapopan or Tlaquepaque. Hence, we hesitate to recommend living here if your true objective is to get to know Guadalajara. With its own proper things to do and see, including amazing artesanal goods for purchase in street markets and shops, Tonalá makes for a great visit. If you choose to live there, however, don't expect to make it to Guadalajara easily on a daily basis. Yes, buses do connect the two, but on a good day you're looking at almost two hours commute roundtrip, and on a bad day, potentially up to four hours. [MAP]
Whew, you made it! Well, Guadalajara is a very large city and there are many, many neighborhoods you could call home. What you have above is not an absolutely exhaustive list – that would require a small book. However, you are now equipped with the basics you need to orient yourself. Next step, find housing – don't worry, we've got you covered. Check out our brand new article on searching for an apartment or home here in the city!