Free Musical Performances in Guadalajara, Mexico, this Weekend: The 212 RMX 2014 Festival
|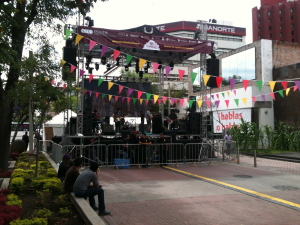 One of the truly wonderful things about the city of Guadalajara, Mexico, is the number of performances free to the public that take place in various parts of the city. Just wrapping up is the Epicentro, Festival de Inovación, a several-day festival dedicated to espousing the benefits of social and technological innovation. Along with conferences, there are free performances throughout the city during the festival, including live music smack in Avenida Chapultepec from bands like Technicolor Fabrics. Today is the last day of that festival, but hot on its heels is the 212 RMX music festival that is put on by last.fm every year. For much of the day and night tomorrow, Saturday, November 22nd, bands will be strumming their stuff on five different stages. On tap are Nortec Collective, Telefunka, Torreblanca, Salón Acapulco, and Elis Paprika and the Black Pilgrims, among many others (there are 38 acts planned in total).
All the stages are located in Avenida Chapultepec but at the intersection of different streets. From north to south, those cross streets are Justo Sierra, Morelos, Libertad, Guadalupe Zuno, and Niños Héroes. Here's a map of the stages for your convenience. The festival is scheduled to start at three of the five stages at 3pm and bands are set to perform until 11:30pm. For a graphic matrix of the festival lineup, click here.
Lots of people attend and the surrounding area is congested, to say the least. Best to park your car at a distance and then walk to Avenida Chapultepec or, always better, use public transportation instead. As for the weather, last year it rained. The forecast is calling for mostly cloudy skies this time around with no rain, but we'll see. May want to bring that raincoat or umbrella just in case. Either way, the music is worth it!