Finding Furniture in Guadalajara, Mexico
|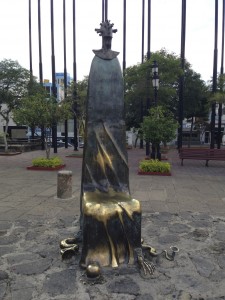 As with many towns and cities in Mexico, things are arranged in Guadalajara in such a way that certain parts of the city consist of store upon store dedicated to the same commercial activity, effectively making these areas commercial zones of one type or another. In some ways, it may run contrary to what you're used to seeing in your country of origin; it may seem like it would act against a proprietor's business edge if they are selling even some of the same things as the person immediately next door and the person two doors down and the person three doors down and the folks across the street, and for the same prices; it may all make you wonder, "How do they distinguish themselves?"
There are stretches of giant garages bursting at the seams with car parts, new and otherwise – headlights, bumpers, rims, grills; rows of cleanings stores selling mops, chlorine solutions by the jug, buckets, spray-top bottles; ferretería (hardware store) next to ferretería, llantería (tire shop) after llantería, bridal boutique upon bridal boutique, curtain store touching curtain store. Whatever historical factors may have led to it, how do they all survive this way? Have the businesses banded together into small profit-sharing groups? We can't answer that for you (yet), but while it may not appear at first blush to be the best setup for the individual proprietors competition-wise, it might make it easier for existing or would-be clients to go shopping, anyway. And in the end, there really are inevitable subtle distinctions between businesses that cause you to purchase a good or service from one and not the other, be it a slight design, quality, or price differential. We'll be laying out more of the defacto commercial zones we've run across in future articles, but for now we're going to start the conversation with muebles (that's furniture, folks).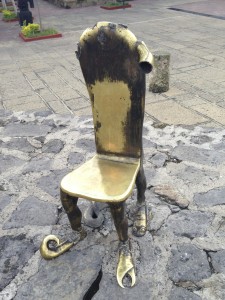 Maybe you've just recently moved to Guadalajara and you decided not to ship or otherwise haul all your stuff down with you. Now here you are with nothing to sit on. You have a couple of options, including bazaars or second-hand stores, markets or tianguis, and bonafied furniture stores. We've gone through acquiring furniture through all of the above channels and even a fourth channel of picking up wooden fruit boxes where we can find them for use as stackable shelves and containers for recycling. The bazaars can be super hit-or-miss as many used goods are ridiculously priced here in the city. There is a gentleman who sells unfinished wood furniture at the tianguis in Patria on Sundays for reasonable prices and he'll stain your purchase for you right there as you wait, but what he has depends on the day and whether somebody else beat you to him. You can find other individuals similarly hawking their homemade wooden furniture at other spots (markets and parks) in the city but schedules and inventory are a bit loose and vague.
For the greatest variety and assortment of furniture from different materials with regular operating hours and conditions (albeit at higher prices), you'll want to head to one of the furniture zones in the city (or to Tonalá if you have a thing for wood). One zone is in Calzada del Federalismo Norte, roughly between the cross streets of Calle Independencia and Calle Manuel Acuña. Once you get closer to the tren ligero (light rail) stop, el Refugio, and the church there smack in the middle of Federalismo, the shops will continue more on the west side of Federalismo than on the east. You can see a map of this area here.
A second zone can be found in colonia Reforma along Calle Porfirio Díaz (also referred to as Calle #36), stretching roughly between the cross streets of Avenida Javier Mina and Calle Industria. You can see a map of the area here. One of the biggest seafood markets in the city can be found here along Calle Porfirio Díaz on its eastern side, wrapping along Calle Josefa Ortiz de Domínguez on its southern end, Calle Francisco de Ayza on its northern end, and Calle Esteban Loera on its western side, but that's a conversation for another time.
Of course the stretches along Federalismo and Porfirio Díaz are just the main drags, and there are plenty of other furniture stores in other parts of the city as well. The idea here is simply to introduce you to the concept of these densely concentrated commercial zones packed with businesses of the same type and to get you started on your furniture needs. If you have any other suggestions or tips on furniture zones, let us know by leaving a comment! Also, remember that the unique business jewels in the rough do exist, so don't forget to do some digging of your own!