Park Your Butt, It's Chow Time at the Food Truck Park in Guadalajara, Mexico
|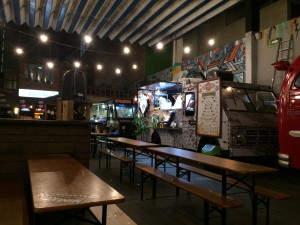 We love food trucks, and our readers do, too. We're constantly on the lookout for a new one, trying their menus and reporting on the tastiest ones that have thus far left us wandering away in hazy food comas with stuffed bellies. But what if there were many trucks in one place, a food truck meeting place, a haven of sorts, that you could visit instead of just one solitary food truck on a side street? What would you say to that?
We trust you would say, "Time to check it out!" While we would never lose the love for the individual food trucks of the world holding down their own out there, The Food Truck Park in Guadalajara is appealing for numerous reasons and allows you to find many of this city's mobile offerings in one place, a giant hangar in Avenida Niños Héroes just a hop, skip, and a jump due west from the monument in the roundabout at the intersection with Avenida Chapultepec. The park plays home to the likes of Loreto Fish, Reddy Sandwiches, and Pepe, Juan y Luis BBQ, among others. Occasionally, the hangar hosts guest trucks like Brick Lane Food Truck, Gourmet de la Calle, as well.
In addition to food, one can find beer, agua fresca, and other beverages, music, and ample tables to sit at while you enjoy your meal(s). Hey, no reason not to try more than one truck's menu while you're there, right? Tables are park- or school-style, wooden with attached benches. These are lined up on a raised concrete pad and surrounded on all sides by your humble food truckers awaiting your order in their vehicles. The hangar is closed on Mondays but open from 2pm until at least 11pm every other day of the week. We say "at least 11pm" because they have been known to stay open later, especially on nights that business is a-rockin', and believe us, this hangar has become quite a lunch and mid-eve grub spot.
Yes, it seems a bit counterintuitive that food trucks would trade in their mobility and potential lack of competition for a dedicated spot under a roof next to, well, other food trucks. However, we have a feeling that the place itself is a draw given the recent popularity of food trucks, benefiting all the parked vehicles, while on the other hand, it's a spot where customers can sample several things, take advantage of a variety of cuisines, and drink alcohol, things not typically available with just one truck on a street corner somewhere in Guadalajara. So, we'd like to think, it's a win/win for all involved.
See their Facebook page and Twitter feed for the latest updates and promotions and happy munching! And remember to bring cash!