Artist Spotlight: Marina Pallares
|
As several sources have pointed out over the last couple of years, Guadalajara is home to a thriving arts scene, among other things. One of those Jaliscan artists destined to garner the city more attention as we speak is Marina Pallares. Known particularly for her linocut prints and paintings, Marina Pallares's creative breadth is much wider, and includes commissions from businesses for mosaics and murals locally and in other parts of the country. Unlike for many of her contemporaries or some of the greats who have preceded her, Marina Pallares's work is actively being collected today while she is in full swing. Indeed, some is already housed in museums inside Mexico as well as in the United States, such as in Chicago's National Museum of Mexican Art.
We here at discoverGDL have been fortunate enough to make her acquaintance and had the opportunity to hold a Q&A with her recently, which we'll be proudly featuring in an upcoming article. For now, please enjoy our introductory Marina Pallares artist spotlight below!
A true tapatía, Marina Pallares was born in Guadalajara in 1980 to homemaker mother Teresa Pallares Abarca and entreprenuerial father José Isabel López Vizcarra. She classifies her artwork as "magic realism", which, she explains, is about
…convincing the patron of the arts that an imaginary space is real; or, creating a credible visual world in the eyes of the viewer, a world which would not actually be possible in real life.
To that end, she produces pieces in different mediums utilizing a range of pictorial and graphic techniques, including oil painting, linocut, and metal engraving.
Though her beginnings in the pursuit of art date back to the tender age of 11 – when she initiated her studies in the Plastic & Visual Arts at various art academies like the Cultural Cabañas Institute (Instituto Cultural Cabañas) and the José Clemente Orozco Center for Art Education at the National Institute of Fine Arts (Instituto Nacional de Bellas Artes, or INBA) – it wasn't until 19 years of age that she began exhibiting her work through collective, as well as individual, exhibitions. Since that time, Marina Pallares's output has been extremely prolific and her trajectory in the field of Plastic & Visual Arts has remained uninterrupted. Believe us when we say that she keeps herself occupied.
In the beginning, her artistic work could be clearly associated with the Mexican School of Painting (Escuela Mexicana de Pintura), but, over time, she has developed her own unique style. Her pieces reveal a love of nature and fantasy, carrying the viewer away with dreamscapes in which different characters appear to be practicing magic or creating previously unknown worlds. For instance, an elderly man on a bicycle is capable of generating the sea from his very beard, or a solitary fisherman fishes by night for strange creatures in moonlit seas. Above all, Marina Pallares indefatigably searches out the font of creativity and an authentic language through which to express herself artistically and engage the audience.
Thanks to her skillful linocut prints, Marina Pallares was the youngest artist to be featured alongside such greats as José Clemente Orozco and Maria Izquierdo in the 2005 publication, Jaliscan Painting in the 20th Century (La Pintura Jalisciense en el Siglo XX, Guillermo Ramírez Godoy). Sales success initially struck in 2001 with her very first individual exhibition, whereupon which she immediately sold out of the entire collection she had on display. This led to radio and television interviews, more solicitations to exhibit her work, increased interest and additional clients, and eventually her inclusion in the aforementioned book.
As mentioned above, some of Marina Pallares's artwork can be found on permanent display today at several museums. Her series, Strokes of Mexico (Trazos de México), is on display at the National Museum of Mexican Art in Chicago, IL, USA. The National Museum of Tequila (Museo Nacional del Tequila, or MUNAT), in Tequila, JAL, Mexico, counts the series, The Tequila Lottery (La Lotería Tequilera), as part of its collection. Finally, the Alfonso Michel University Art Gallery (Pinacoteca Universitaria Alfonso Michel) in Colima, COL, Mexico, also hosts The Tequila Lottery series.
Marina Pallares's work is likewise the active target of private collection by prominent Mexican professionals including the CEO of Bansí, financier Jorge de Jesús Montes Guerra; the co-founder of Vértice Comunicación, publicist Alejandro Sierra; lawyer José Praxedis Padilla; and Rubén Ávila Tena, an attorney focused on agrarian-related legal issues. Additionally, she continues to receive and undertake requests and formulate proposals for a wide variety of commissioned projects on a regular basis.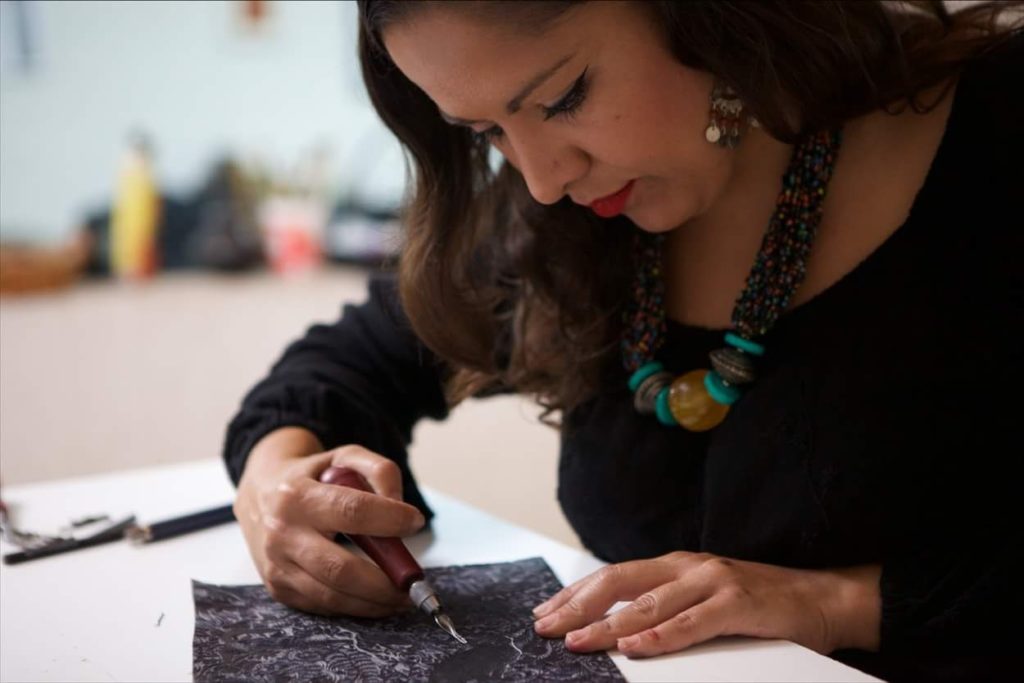 Stay tuned for our future post of a more personal Q&A exchange with Marina Pallares, and be sure to visit her current website to view more examples of her amazing work, purchase prints, or contact her for more information.
Each piece I undertake is a challenge. That, in and of itself, is already an aspect of interest to me. With each new work, I explore the known and unknown possibilities: a new use of color, a new way to create harmony, another way to use a particular technique… ~ Marina Pallares