Free Tours on Tap in Guadalajara, Mexico
|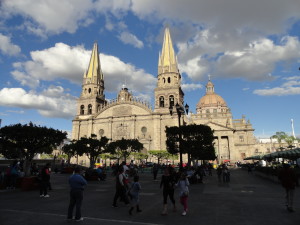 Have you been itching to take a tour in Guadalajara? Are you traveling on a tight budget? Then take note – there will be free tours of museums and parks throughout the city's historical center, traditional neighborhoods, Avenida Chapultepec, the Bosque de los Colomos, and the Panteón de Belén as well as parts of other municipalities of Jalisco including Tonalá and Tlaquepaque. The Director of Tourism in Guadalajara has announced the "Program of free tours", to take place during one of the busiest times for tourism in Mexico all year, the vacation period known as Semana Santa and Pascua (Holy Week and Easter). The exact dates for these tours stretch from March 30th to April 11th.
Tours are to be of either the walking sort or the bus sort, depending on the attraction, but either way they are completely free. The sole exception will be the Instituto Cultural Cabañas, which will carry an entrance price of $20 MXN, greatly reduced from the normal cost of entrance. You'll recall from a previous article of ours that the Instituto Cultural Cabañas houses the fantastic and internationally renowned Orozco murals (which you can visit for free if you go on the right day – see the article). Anyone who doesn't wish to pay can skip this stop and continue their tour with another guide, but we emphatically recommend you make the stop.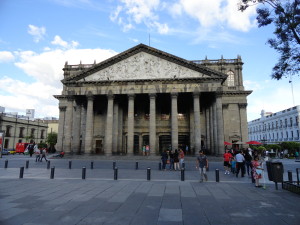 You can register for and then begin any walking tour at the Palacio Municipal, located in Avenida Hidalgo #400. Just be sure to show up at least 30 minutes prior to the designated start time or even earlier as space is limited. As for bus tours, those will be departing from Plaza Guadalajara. Again, arrive at least 30 minutes early (better to arrive even earlier) to secure a spot.
We've put together a complete matrix of your options and their dates and special times if different from the usual hours below – see the end of this article and click on the image to enlarge. Below, also find further details on the sites included in each tour. This is an amazing opportunity to acquaint yourself with Guadalajara, Tonalá, and Tlaquepaque. Don't miss it!
Times
Unless noted otherwise, all tours leave at 9:30am, 3pm, 7pm, and 8pm.
Centro Historico (Historical Center)
Sites include the Rotonda de los Jaliscienses Ilustres, the Catedral Metropolitana (Cathedral Metropolitana), the Teatro Degollado (Degollado Theater), the Plaza Fundadores (Founders Plaza), and the Instituto Cultural Cabañas (Cultural Institute Cabañas).
Leyendas Vivas de Guadalajara (Living Legends of Guadalajara)
Actors playing persons of historical importance join you on your walking tour through the historical center of Guadalajara.
Guadalajara Iluminada (Guadalajara Illuminated)
Sites include the Monumento de los Arcos (Monument of Arcs), the Glorieta Minerva, the Puente Matute Remus (Matute Remus Bridge), and Avenida Chapultepec.
Museums
Sites include the Museo de Sitio en Palacio de Gobierno (Government Palace Museum), Casa Museo López Portillo (López Portillo House Museum), and the Museo del Periodismo y las Artes Gráficas (Museum of Journalism and Graphic Arts).
Barrios Antiguos de Guadalajara (Historical Neighborhoods of Guadalajara)
Sites include the neighborhoods of San José de Analco and San Sebastián de Analco and the temples of Mexicaltzingo and Aranzazú.
Paseo Chapultepec
Sites include the Museo de Arte Raúl Anguiano (Art Museum of Raúl Anguiano), the Santo Coyote Restaurant, and the Museo Te Quiero Tequila (I Love You Tequila Museum).
Museo del Ejército y Fuerza Aérea (Army and Air Force Museum)
Sites include the Museo del Ejército y Fuerza Aérea (Army and Air Force Museum), Museo de Paleontología (Palaeontology Museum), and the Instituto de la Artesanía Jalisciense (Institute of Jaliscan Handicrafts).
Avenida Juárez-Vallarta
Sites include Monumento los Arcos (Monument of Arcs), the Fuente de la Minerva (Minerva Fountain), and the Casa de los Abanicos (House of Fans).
Tlaquepaque
Sites are various and depend on which time you take the tour (morning or evening). Be aware that the tour on the 2nd of April departing at 7pm meets on Avenida Corona next to the San Francisco Temple.
Tonalá
Sites are different each day a tour is offered.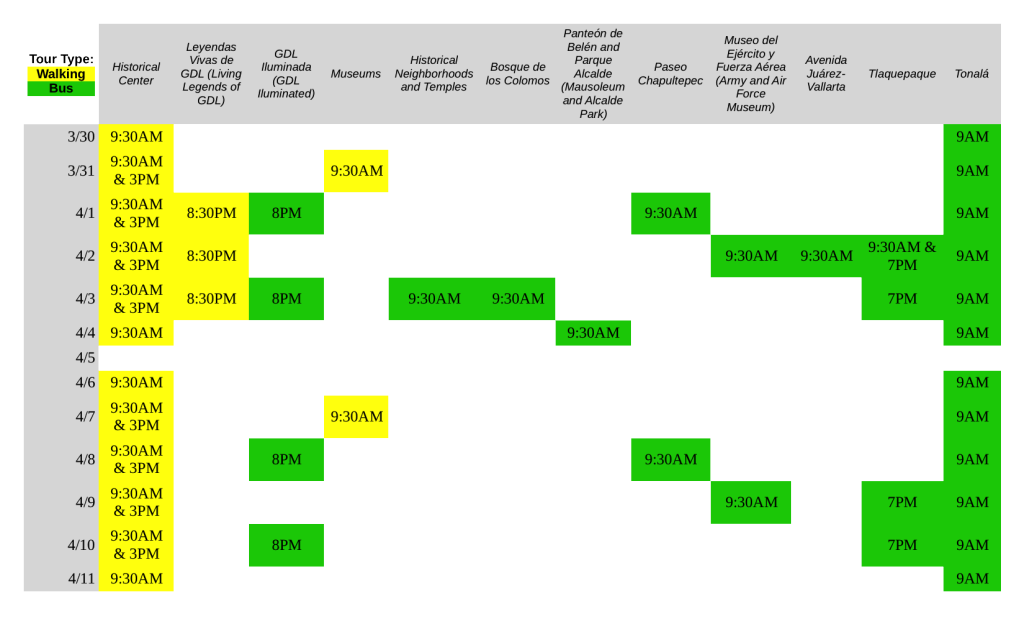 See here for this article's source.