Authentic Chilean Eats: Puro Chile
|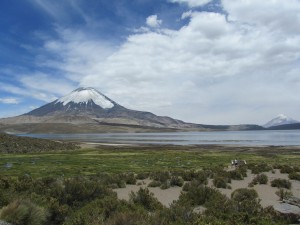 Our second offering in our Restaurant Real-Deals series of posts transports us to South America and the beautiful country of Chile through its delicious food and attentive service. Located in Colonia Arcos Vallarta along Avenida López Cotilla, east of Glorieta La Minerva and part of a solid corridor of enticing establishments that stretches further east towards Avenida Chapultepec, the restaurant Puro Chile is nothing if not pure and true to its Chilean roots. Serving up a range of fare from street-style sandwiches and hot dogs to empanadas to salads, fish filets, and fine cuts of beef, Puro Chile will please with the tastes of its mother country.
We can personally recommend the basic salad (with shredded green beans, what patience!), the Pastel de Choclo, and the beef filet, but we have read rave reviews about other menu items including the empanadas. The pastel de choclo is one of their most popular signature dishes and is akin to a quiche and just as filling, packed with corn, cheese, and meat, among other things. It comes in two different sizes, half and full, for personal consumption or for sharing. Or, if you've tired of the thin carne asadas and arracheras and have been longing for a thick-cut steak since you've been in Mexico, do yourself a favor and order the juicy beef filet. While it is definitely one of the most expensive items on the menu ($12-13 USD at current exchange rates), it will not disappoint. It's mouthwatering. For your side, get potatoes your way – baked, mashed, or as fries.
Dinner did take a bit to arrive, but that's what you get for high-quality, made-to-order meals in a fine establishment such as this one. Keep yourself busy with bread, wine with fresh fruit or anise liquer in it, and good conversation. And most of all, enjoy. This is a fantastic place for a relaxed and romantic dining experience.