Authentic Japanese Eats: Usagui
|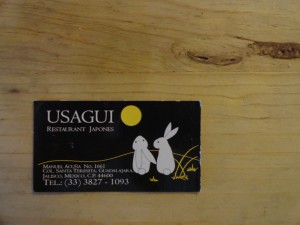 Unsuspectingly located on Calle Manuel Acuña in Colonia Santa Teresita is Usagui, one of Guadalajara's best restaurants hands-down. The Japanese food it serves is also as authentic as any you will find here in Mexico, and for these reasons, it's the first in a series we're calling Restaurant Real-Deals.
We sampled a few things off the sizeable menu on our visit and were impressed with almost all of the plates. The quality of the ingredients, the flavors, and the portion sizes were all impressive given the reasonable pricing. Let's start with the sushi (of course). Lots of restaurants in the area have the word "Sushi" in their names or advertise that they have it on the menu, but they really don't know the first thing about it, no offense. They have rolls with all sorts of interesting things stuffed into them and sometimes things that don't go all that well together. They don't have ngiri sushi, and they definitely don't have sashimi.
You can go to Suehiro and pay out-the-nose for small pieces of ngiri sushi or sashimi of one type or another, or you can go to Usagui and get larger portions for much less, and the cuts of fish are very good. One of the most interesting exchanges with our waitress was her warning that ngiri sushi normally comes with wasabi spread between the fish and its rice cushion and that wasabi is really spicy. Very curious for a country that has some of the spiciest food we've ever eaten and such a general love of chiles. She asked if we wanted it on the side, and we said no thanks, we'll take it where it belongs.
As for appetizers, we can't say enough about the beef yakitori (we have not yet sampled the chicken or shrimp). They have an entree plate centered around their yakitori that we're eager to try next. Regarding the gyoza, those were actually the most disappointing part of our meal, unfortunately. We ordered the gyoza fried and they were way over-done, with the innards a little off on taste. Next time around we'll opt for the sauteed ones instead and see if that makes any difference. In some other wannabe Japanese place, you'll be lucky if you get real gyoza instead of miniature empanadas, and the stuffing is often way off the mark. You might do okay at other Asian restaurants like Buddha Bistro in Avenida Hidalgo, Uma Uma off Chapultepec, or again back at Suehiro where you're forking over more money to eat decent food, but at that point you should probably just hit up the Asian food store in Avenida México instead for a package of their shrink-wrapped made-in-house frozen gyoza, take 'em home, and fry them up yourself. On that same note, there's always Costco – they carry frozen gyoza too.
The yakimeshi fried rice with chicken was amazing, a favorite of the night. The yakiudon noodle dish was wildly good as well, although be aware that the noodles are quite thick if you're more a thin-noodle person. To each their own. Wash it all down with sake, tea, beer, what have you. They stock it and they've got you covered. Other places will not have such a large menu of various authentic Japanese plates, period, and you may only be able to get a Pacifico or a Corona to accompany your food.
If you've been craving tender beef yakitori, if you've been counting chunks of salmon and tuna as you lay down to sleep, if you've been dreaming of wasabi bathing in little pools of soy sauce, do yourself a favor and get over to Usagui, stat (sorry, they don't deliver). And remember to bring pesos as they don't accept cards.