Ridesharing in Guadalajara, Mexico
|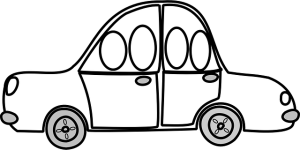 Guadalajara is a large city, and as such, has its share of transportation options to get you from one place to another here in Mexico. In addition to the typical flights and long-range bus services, you can obviously rent a car. We've even heard of individuals contracting with Uber drivers to get from here to the Jaliscan coast, for instance. That seems a bit much to us, but to each their own. Renting a car can be rather expensive too, and risky. Thefts, damage, and accidents are real issues. Bus and plane travel are dandy, but what if there are no bus routes or flights to your particular destination? And might there not be something even cheaper than traveling by bus or plane? A local bus might do, but it might take forever, depending on where you're going. A taxi might do, but that could be prohibitively costly. A tour bus might get you somewhere, but hopping on a tour bus is a thing entirely unto itself. If you don't own your own car, whatever are you to do? Hitch a ride, that's what.
No, we're not talking about standing on the side of the road and thumbing vehicles down. What we are talking about is ridesharing. We've probably all shared a ride at one point or another – you know, hop in the car, help pay for gas, and maybe even snacks along the way. With the Internet and mobile applications readily available, ridesharing has taken on a whole new look. And if you don't own a vehicle, and with no Flexcar or Zipcar option available here in Guadalajara (yet), ridesharing might just be the thing you're looking for. Cover distances short and long by sharing a ride with someone already headed the same direction you are. Help pay for the trip and meet new people.
Here in Mexico (and elsewhere in the world), the preeminent ridesharing platform is
BlaBlaCar
. This platform connects you with drivers who are already heading your way. Prices are established upfront and drivers are clearly identified. Now you have yet another service or option at your disposal for getting to Puerto Vallarta, Mexico City, Querétaro, and many other destinations, both near and far. Want to go hiking and camping at the Nevado de Colima? Catch a ride, otherwise it can be a bit of a difficult, long, indirect, and ultimately costly trip that requires use of various buses and taxis to ultimately make it there.
On BlaBlaCar's site, drivers post their itineraries, complete with departure and destination points and the date and time of departure, as well as the cost per seat and the number of vacant seats, not to mention the type of car they drive and many other details such as music preference. You, the traveler, search out your own departure and destination points and the planned date of your trip, then contact the driver from the list of results that best meets your trip needs via private message or phone in order to secure your spot. The day before, it's a good idea to confirm the trip details with your driver. When it's time to meet at a predetermined location, you'll have the driver's profile photo and a picture of their car to recognize them by, they'll have your profile photo to recognize you by. Pay the driver the cost of the seat in cash and enjoy the ride, then leave a review of your driver after you've arrived!
Through a mutual review system (drivers get reviewed as do passengers), identity confirmation, a hard-working customer service team, and a women-only trip option, BlaBlaCar ensures a safe service that you can trust and have confidence in. What's more, you can not only select your driver but your travel partners, the other passengers, as well. The driver can similarly select their passengers. Thus, once all is decided upon, you know that you have all selected each other to travel together, making the experience ideally that much more comfortable and enjoyable. Plus, drivers are required to have insurance that covers all passengers in case of an accident, another important safety aspect.
Use of the website is incredibly straight forward. Again, start by entering your departure and destination points and planned date of travel, then browse the results. Filter the results using several options in the filter panel on the left of your browser window, and sort results using buttons in the upper right. You can even setup alerts for trips that are created in the future that meet your criteria and receive those alerts by email. Finally, you can login by creating a new account or through Facebook. Give it a whirl, you don't need to have an account to search trips. Then, when you're ready, login, take advantage of the service, and travel for less while making new friends. And don't forget to download their iPhone or Android app if you're so inclined. Happy travels!