Street Food Standouts: Monchería Atómica (Crepas) Food Truck in Guadalajara, Mexico
|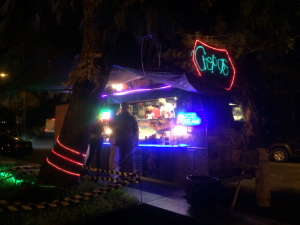 La Monchería Atómica has a lot going for it, making it the focus of our second post in the "Street Food Standouts" series we have going here at discoverGDL. To start with, this night-time munchies food truck dishes up some of the tastiest crepas (crepes) you'll have the pleasure of sampling in this city. Name your poison – go salty with the crepa "Carnes Frías" (cheese of your choice, spinach, ham, salami, and peperoni) or enjoy the sweeter things in life with a nutella or strawberry jam crepe. They have all-natural fruit crepes as well for something a bit healthier or grab a smoothie instead (although they have malts, just sayin').
The salty crepes can be made as sandwiches instead and sweet crepes can be waffles if your heart desires. In fact, how about a waffle drizzled with a melted candy bar? Oh yes they did. Don't forget the ice cream and a coffee. See their complete menu on Facebook.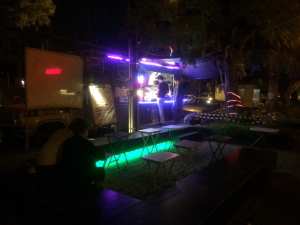 Besides their eats, they have a fantastic location in Calle Libertad right next to the Plazoleta Libertad just a couple blocks off Avenida Chapultepec. This is one of the cutest little plazas in Guadalajara with its share of restaurants, bars, trees, and park benches. They've parked the truck right next to some built-in seating in the plaza, giving you the feeling that the food truck has its own dedicated seating and thus might be closer to a sit-down eatery than you're used to. Don't worry, though, there are no waiters and this is definitely a food truck experience for you purists out there, as the old modified Dodge camper with a redhead painted on the back can attest to.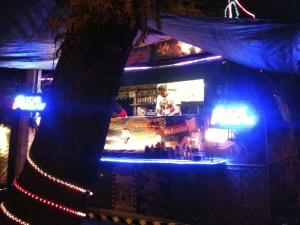 Speaking of seating and an old modified Dodge camper, these guys have one more trick up their sleeves adding to the whole experience – cartoons. From a projector and white screen at the front-end of the truck, they show cartoons the likes of Top Cat and others. Tasty eats, great location, seating, and entertainment? Can you see why we're fans now? Give them a try any night from 7pm-1am and let us know what you think by leaving a comment below!